Knowledgebase
How can a Remote Dial-in user use a fixed LAN IP address instead of getting the IP address assigned by Vigor VPN (PPTP, L2TP) router?
Posted by on 27 January 2012 10:55 AM
Normally, Vigor will assign an IP address from the range of IP pool (set up in the PPP General Setup) for PPP related VPN client. If a client wants to use a fixed LAN IP address, he may have trouble establishing a Remote dial-in VPN connection with the Vigor router. This problem can be solved by creating an account in LAN-to-LAN profile. Suppose the router's LAN IP setting is 192.168.8.0/24 and the fixed IP used for the remote dial-in user is 192.168.8.100.
For the Remote Dial-in User, configure his/her PC with the static IP address to 192.168.8.100.

In the Vigor router LAN-to-LAN profile, input "192.168.8.100" in the Remote Gateway IP field as shown below:
VPN and Remote Access >> LAN to LAN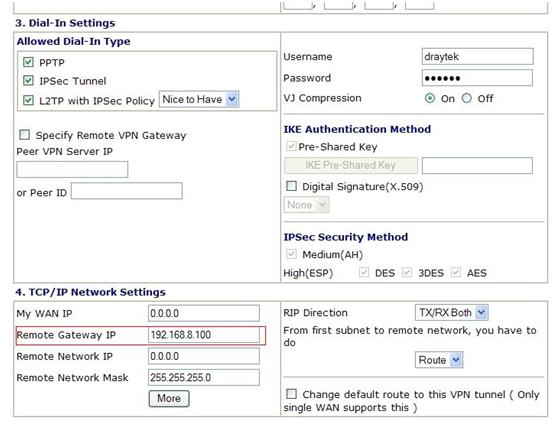 ---