Knowledgebase
Custom Trunk How to Increase the Number of Trunk – Registering FXO/ISDN-TE port of 3300V+ to the Custom Trunk in VigorIPPBX
Posted by on 16 February 2012 10:02 AM
Custom Trunk is the new added feature offered by the firmware, V357. It can help the users to increase thenumber of PSTN/ISDN Trunk to solve the problem of insufficient trunk problem. Users can configure thesettings for FXO or ISDN module on Vigor3300V+ and register it to Custom Trunk in VigorIPPBX toachieve the goal. Below introduces how to increase the PSTN Trunk number. The environmental structureshall be:
The steps for configuring the Custom Trunk are listed as below:
1. Access into the Web configurator of VigorIPPBX 2820. Open IPPBX>>Extension to create a newextension for Custom Trunk (the number is 3511 in this case).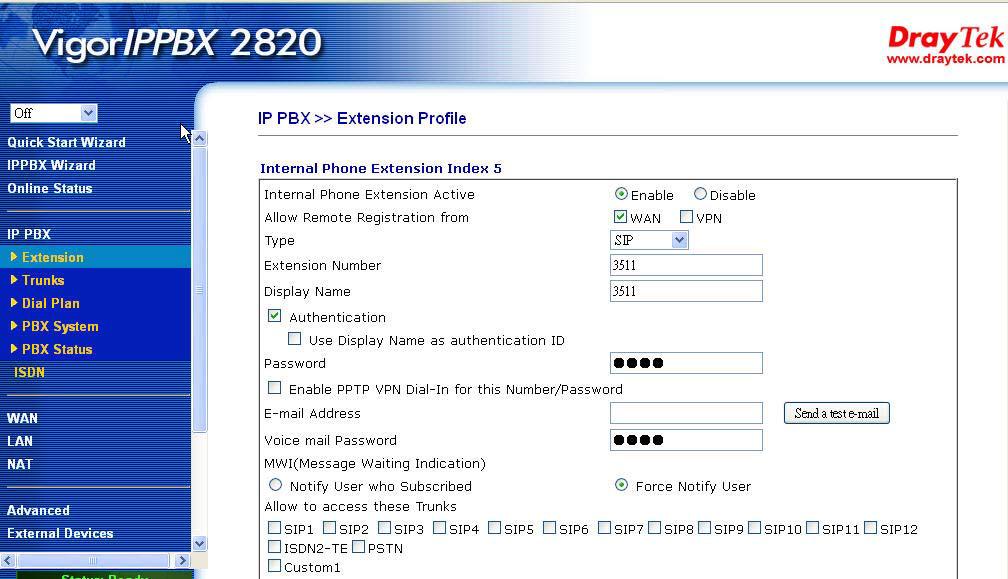 2. Next, open IPPBX>> Trunks. You can find the Custom Trunk link. Click it to open the setting page.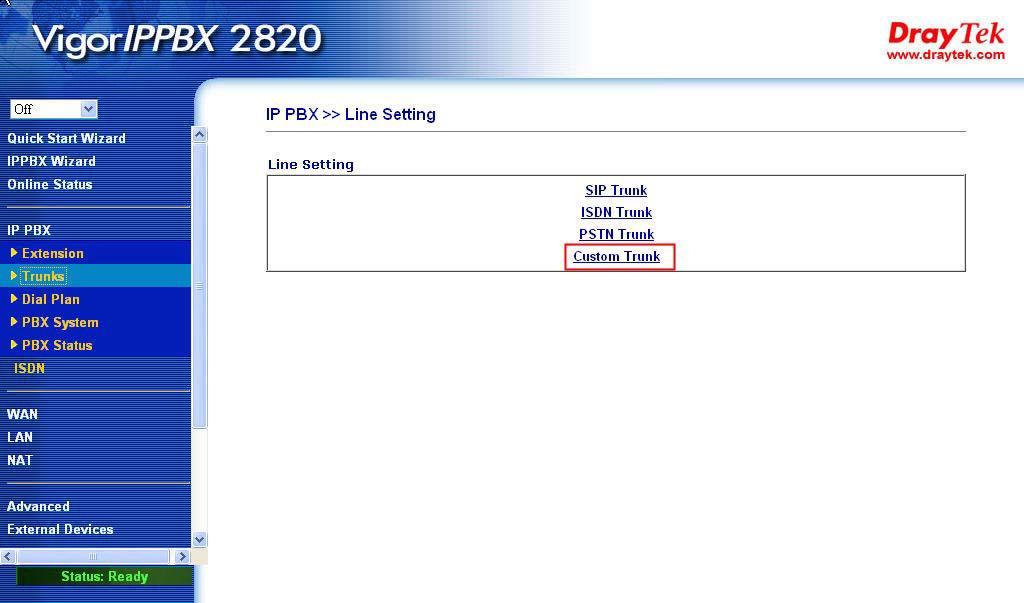 3. In the setting page of Custom Trunk, choose any one of the index numbers. In the detailed setting page,choose the new added extension (3511) as the Extension/Trunk Number. Click the Enable radio buttonto enable such feature. Last, click OK to save the settings.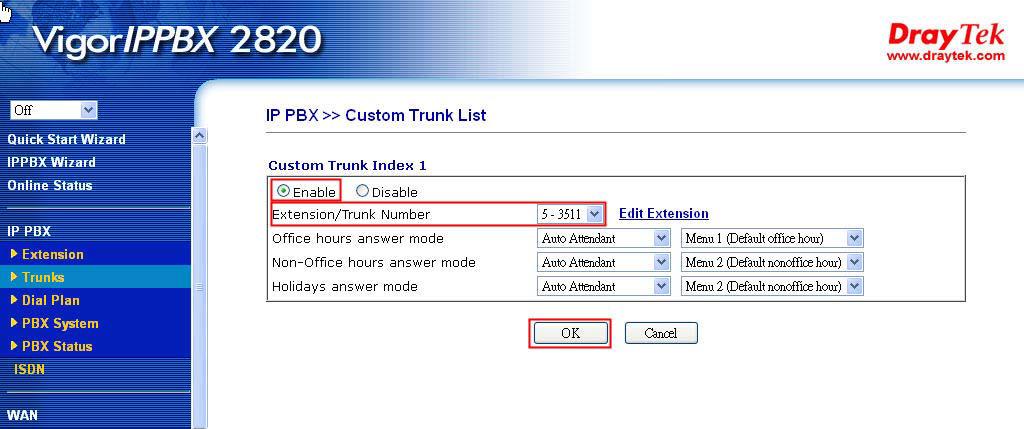 4. Now, access into the web configurator of Vigor3300V+. Open the VoIP-Protocol page and type relatedSIP configuration information of VigorIPPBX (refer to the following figure).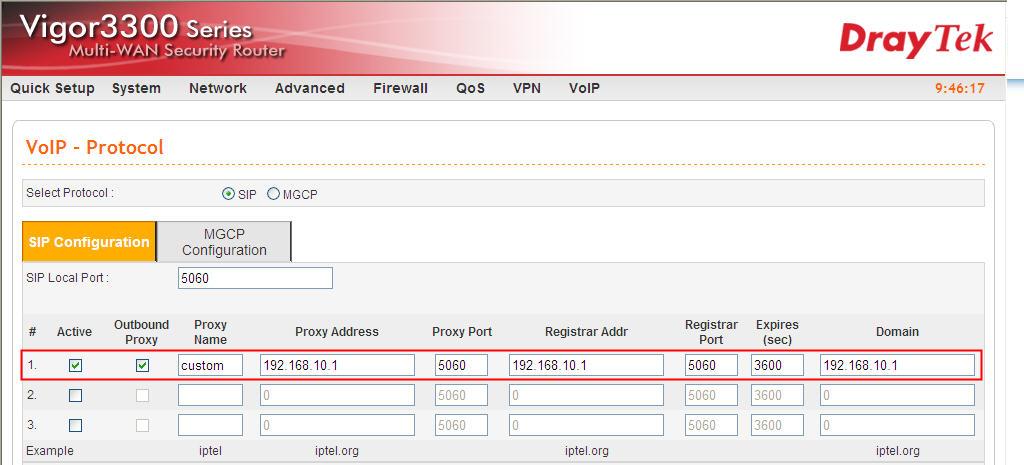 5. Open the VoIP – SIP Accounts page to modify / edit the page with the information listed as below.

6. Next, Open the VoIP-Port Settings page to configure the settings for Port 1 (FXO). Such informationwill be used for registration. At last, set the same nubmer (9987, in this case) for Hotline Number toInternet and Auto Attendant number (for Custom trunk usage).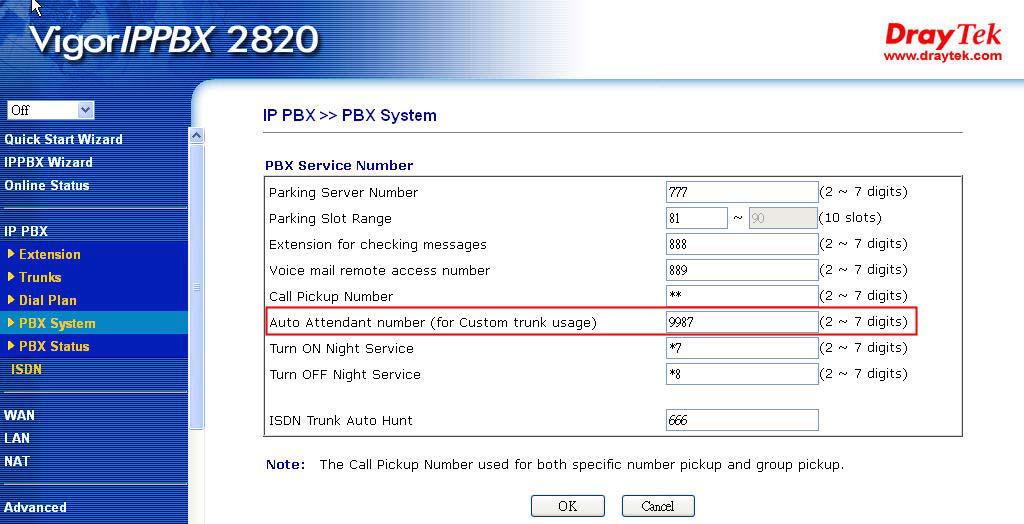 7. Open the VoIP- SIP Status page. If OK is displayed on Register Status field, it means the registration issuccessful.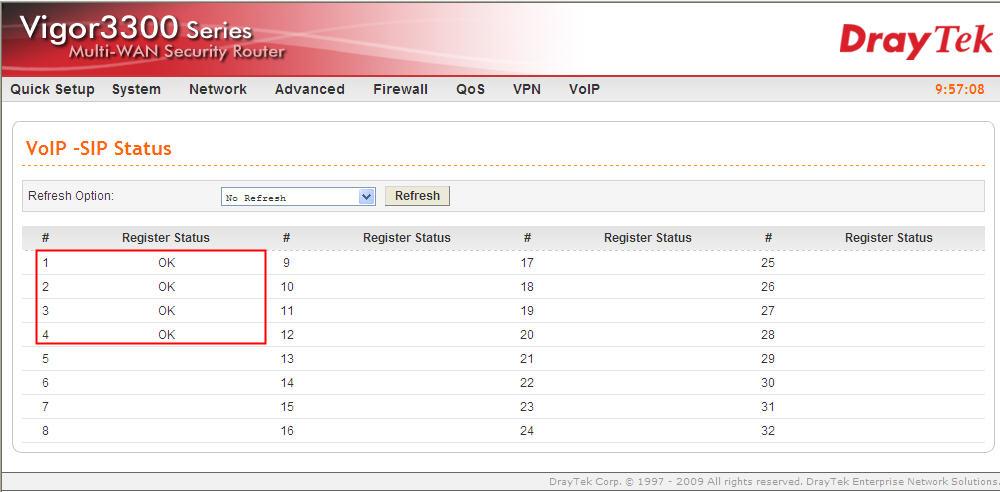 8. Return to the web conifgurator of VigorIPPBX and open IPPBX>>Custom Trunk List. If theregistration is successful, the Status and IP fields will be shown with the word, "Online" and the IPaddress of Vigor3300V+.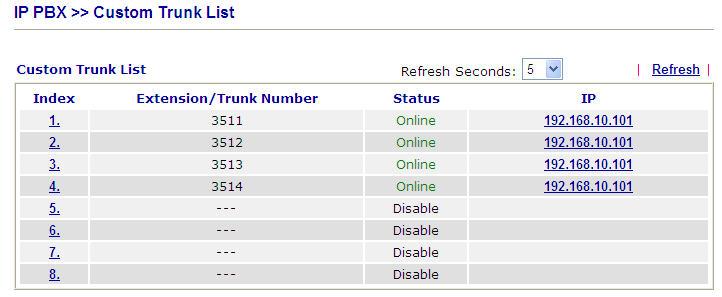 Now, you have completed the Custom Trunk settings and the number of Trunk has been increased.
Usage and Notifications for Custom Trunk
1. Tom wants to use his mobile phone to dial into the FXP port of Vigor3300V+ via PSTN line. When hedials into the line, he will hear the AA sound set by Custom Trunk (or you can set Forward toExtension or Forward to Group, no sound will be played).

2. Now, Tom can dials other extensions registered on VigorIPPBX or other extensions of the company tomake the phone call conversation.
3. Notice that all the extensions under VigorIPPBX must use the settings on Digit Map or Speed Dial fordialing out. Therefore, when Alex wants to dial to Tom, he must configure the settings on Digit Map orSpeed Dial previously.

The above settings indicate when Alex dials out by pressing 31, the custom trunk will dial 035972727instead and connects to Tom's mobile later.

The above settings indicate when Alex dials out by pressing 32, the custom trunk will dial 035972727instead and connects to Tom's mobile later.
---