Knowledgebase
Posted by on 15 June 2015 05:22 PM
Emerging mobile technology and applications demand more bandwidth. Wi-Fi users are increasing day by day. Dropped connections, poor quality and limited mobility are major areas of frustration for users today.
802.11ac is now available to meet these demands. It solves these problems by significantly improving range and performance.
Major advantages of 802.11 ac are:
Increased Speed
It is accomplished by
o Wider frequency
o More MIMO (Multiple Input Multiple Output) spatial streams
o Higher density of modulation
o Beamforming
Improved Range
With the amazing feature –Beamforming-we get higher speed over long distances. Instead of radiating in Omni direction, wireless router focuses on the client. It concentrates energy in the direction of the client by using beam forming technology improving Wi-Fi performance. 802.11ac also supports more aggressive error correction codes that help in improving the range.
More number of users
802.11ac supports simultaneous transmissions to multiple clients with Multi-user MIMO
Reduced Interference
Since 802.11ac is working on a frequency of 5 GHz, there is less interference with other wireless signals compared to previous versions of Wi-Fi.
Backward Compatibility
802.11ac is compatible with older versions of Wi-Fi like 802.11n and 802.11a which also use the 5GHz band
What is 802.11ac?
802.11ac is the next generation of Wi-Fi. It provides higher throughput, handles more clients and more reliable.
Feature Enhancements
Beam Forming:
Beam forming transmits data towards direction of the device rather than transmitting in all directions. This kind of focus strengthens communication between transmitter and device. Hence this technology provides wider coverage with more reliability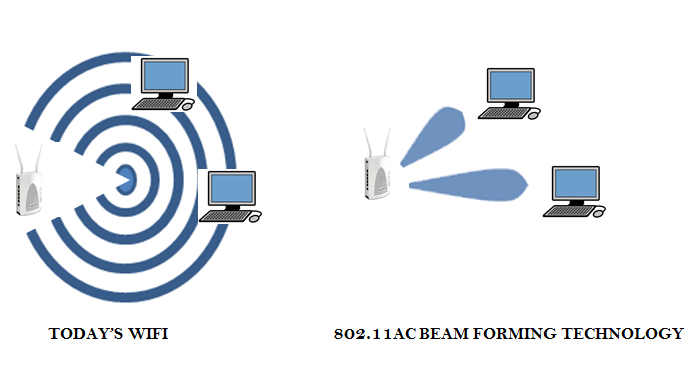 MU-MIMO (Multiple User – Multiple Input Multiple Output)
It supports simultaneous transmissions to multiple clients. Hence multiple clients can receive data simultaneously from a single AP at full channel data rate.
Learn more about 802.11ac
Draytek - 802.11ac Performance Test – Watch Now
This video shows real time test results of airtime fairness testing performed by Draytek
---