Knowledgebase
Video - Configuring the Vigor120 Router for Bridge Mode
Posted by Roy Panetta on 29 June 2015 03:52 PM
The Vigor120 is a compact router with an ADSL2+ WAN port and an Ethernet LAN port. It can act as a standalone router utilizing NAT, DHCP server and object-oriented firewall. It can also be used as a transparent bridge to interface DrayTek Broadband routers to ADSL2+ services.
This instructional video describes how configure the Vigor120 in bridge mode to allow it to connect a broadband router.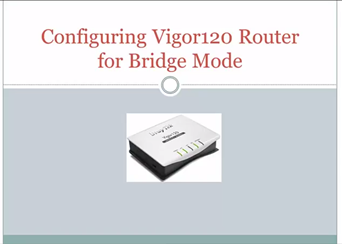 Click here to watch this video.
---