Knowledgebase
How to set up Web Content Filtering on Vigor DV3900
Posted by Herve Liu on 07 August 2017 05:26 PM
This Application note describes the steps required to activate the Web Content Filter (WCF) in the Vigor3900 router and how to create a firewall filter to utilise the WCF rule.
This guide also applies to the Vigor2960 and Vigor300B routers.
Activate the 3900 WCF license first by login to the Router ip address 192.168.1.1 and follow steps 1-4

Step 1: Click on Objects Setting

Step 2: Click on Web Category Object

Step 3: Click on Content Filter License

Step 4: click on Activate URL. Note - The pop up blocker must be turned off. You will be directed to the

" myvigor.draytek.com " web site where you can create a free account.

Fig 3900-1
You may use a trial version for this device on Draytek web site .
Fig 3900-2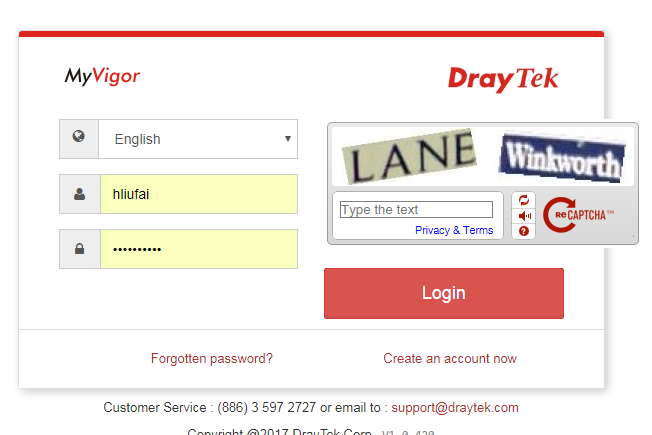 Fig 3900-3
Click on the trial or your active license and follow the prompts.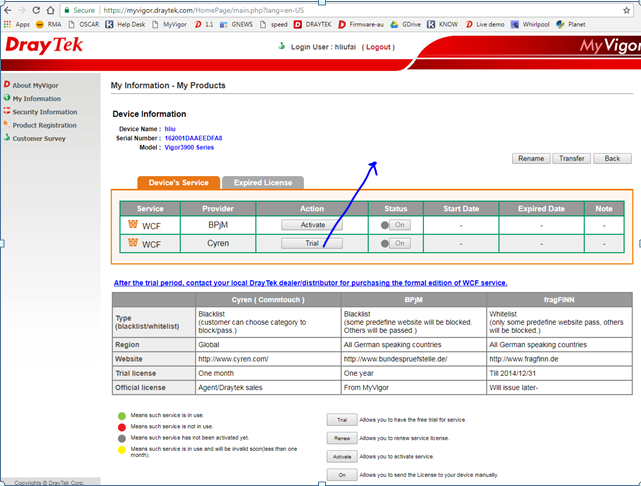 Fig 3900-4
Click on URL shown by arrow to go back to the DV3900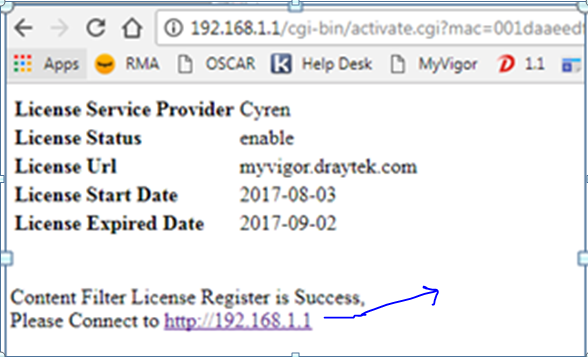 The Content Filter License will appear as " Enable " see arrow below
Fig 3900-5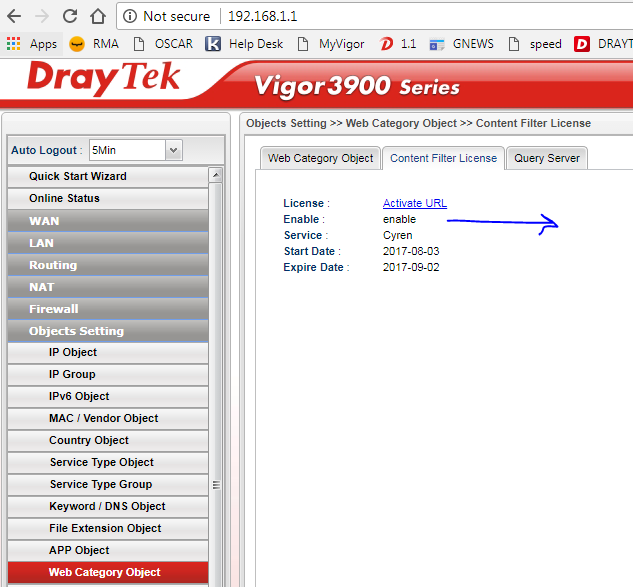 Then create a filter profile eg Child Protection- see steps 5-9 below
Step 5: Click on Web Content Object
Step 6: Click on ADD
Step 7: Type in a Profile name eg CHILD
Step 8 : Select the Filter protection sets. Here all are selected for Child Protection
Step 9: Click on ADD to save the settings
Fig 3900-6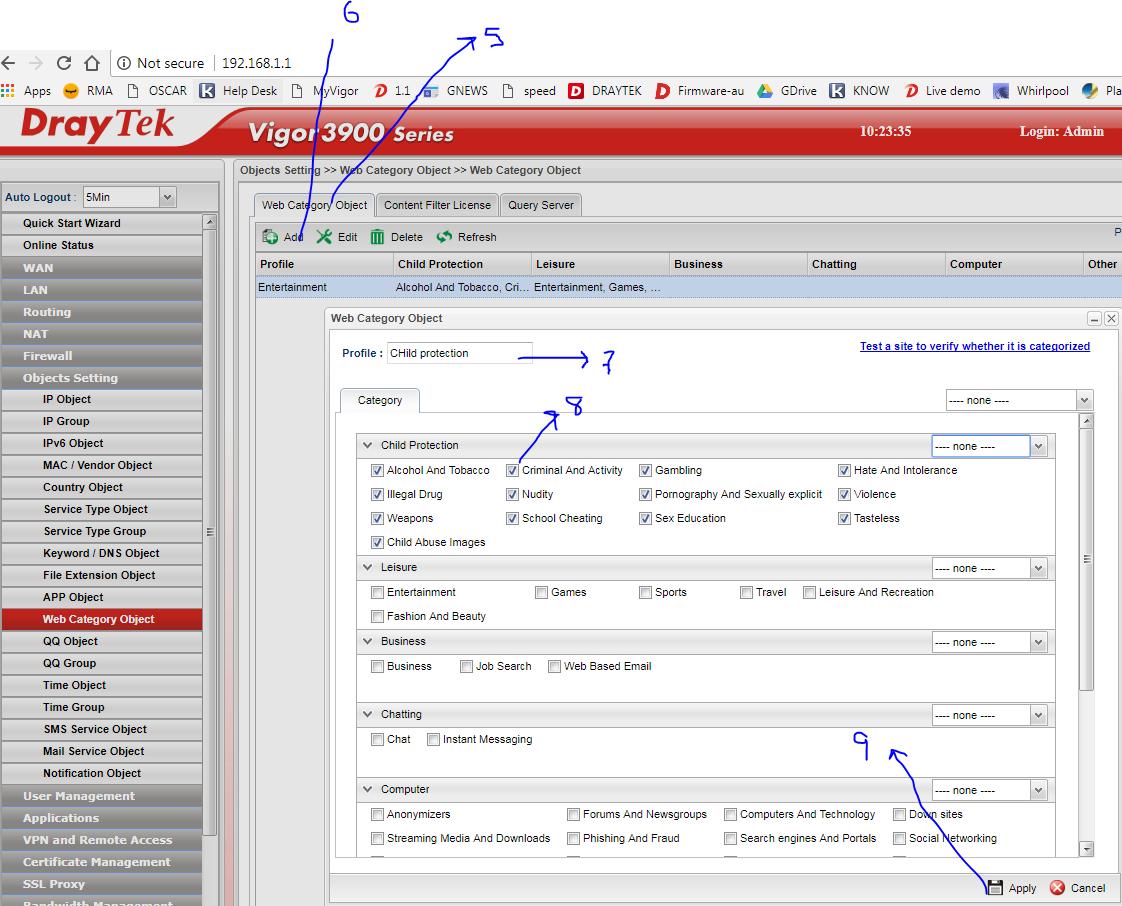 Step 10: Then go to Firewall and follow steps 11 – 17
Step 11: Click on Firewall
Step 12: Click on Filter Setup
Step 13: Click on URL/Web category filter
Step 14: Click on Add
Step 15: Add a filter name eg Child Protection
Step 16: Go to the Web Category policy and choose the existing one named " Child " here.
Step 17 : Click on Apply to save settings
Fig 3900-7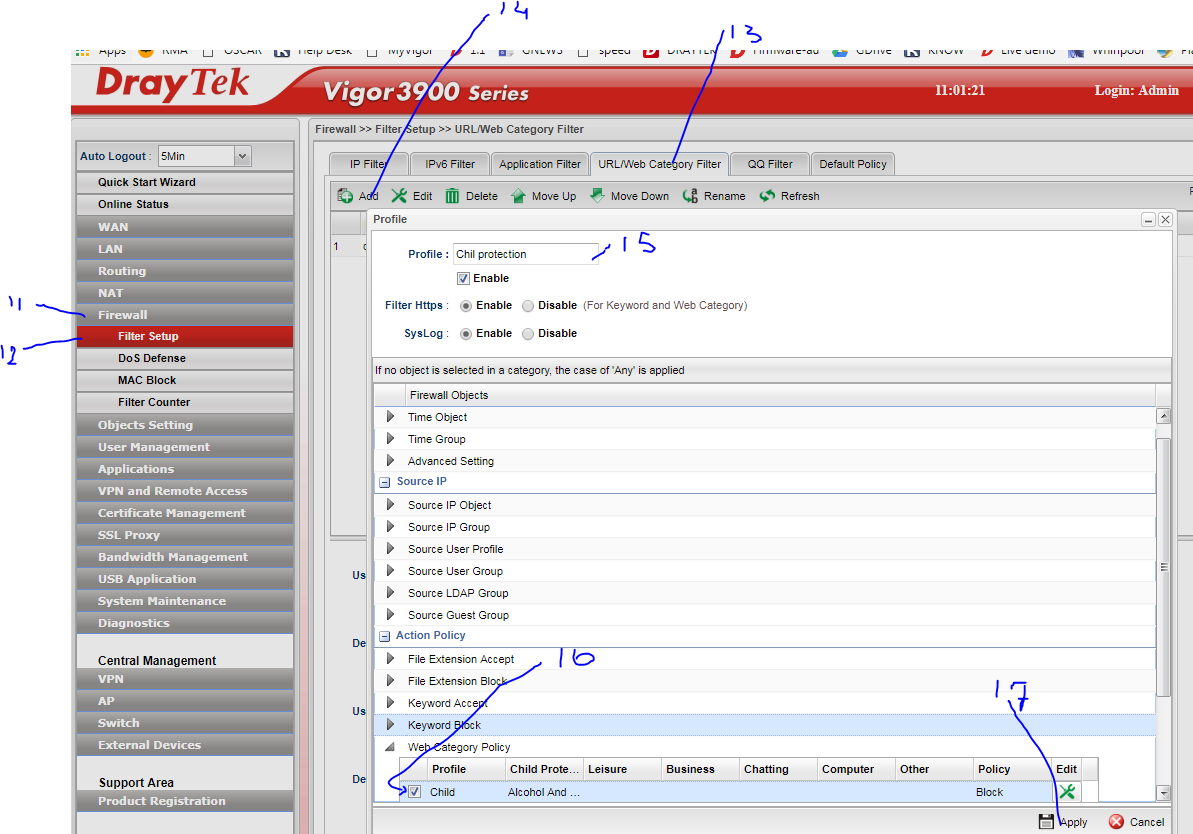 Now you can add an IP range addresses to this filter . Set it as 192.168.1.5 - 192.168.1.7 see steps 18- 21
Step 18: Click on Source IP Object
Step 19 : Click on + to add a range of Ip addresses
Step 20: Type in a range name eg Range1
Step 21 : Select range and type in a range eg 192.168.1.5 – 192.168.1.7
Fig 3900-8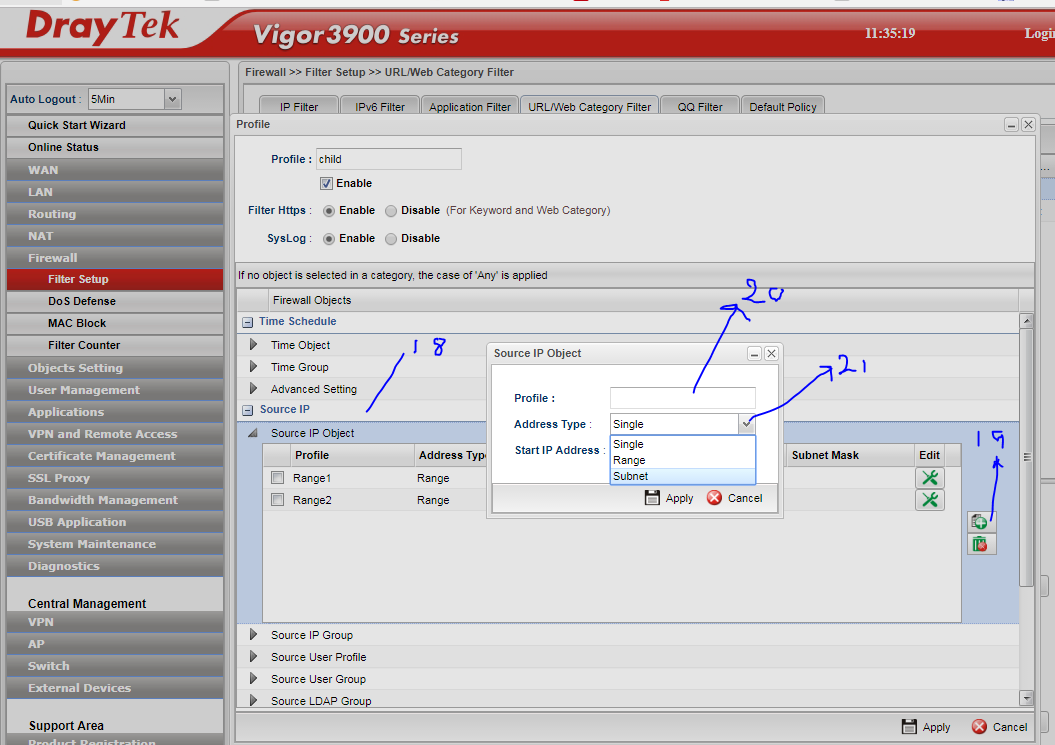 Step 22 : Select the range by ticking it
Fig 3900-9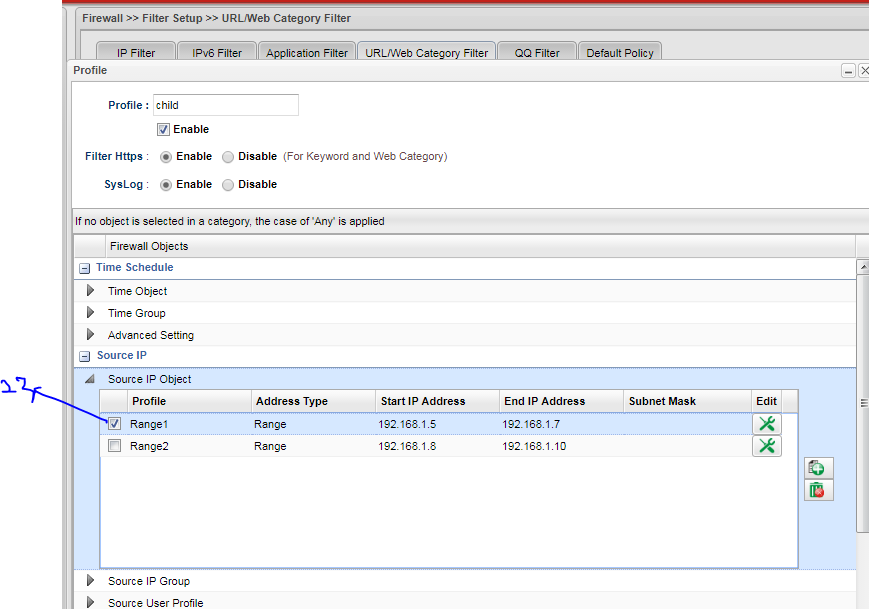 Now create another protection profile and name it " Entertainment " with different rules - see steps 23 -27
Step 23: Click on Web Category Object – select Web category object TAB
Step 24: Click on "ADD"
Step 25: Type in a Name eg Entertainment
Step 26: Tick all the filter conditions as required.
Step 27: Click "APPLY " to save settings
Fig 3900-10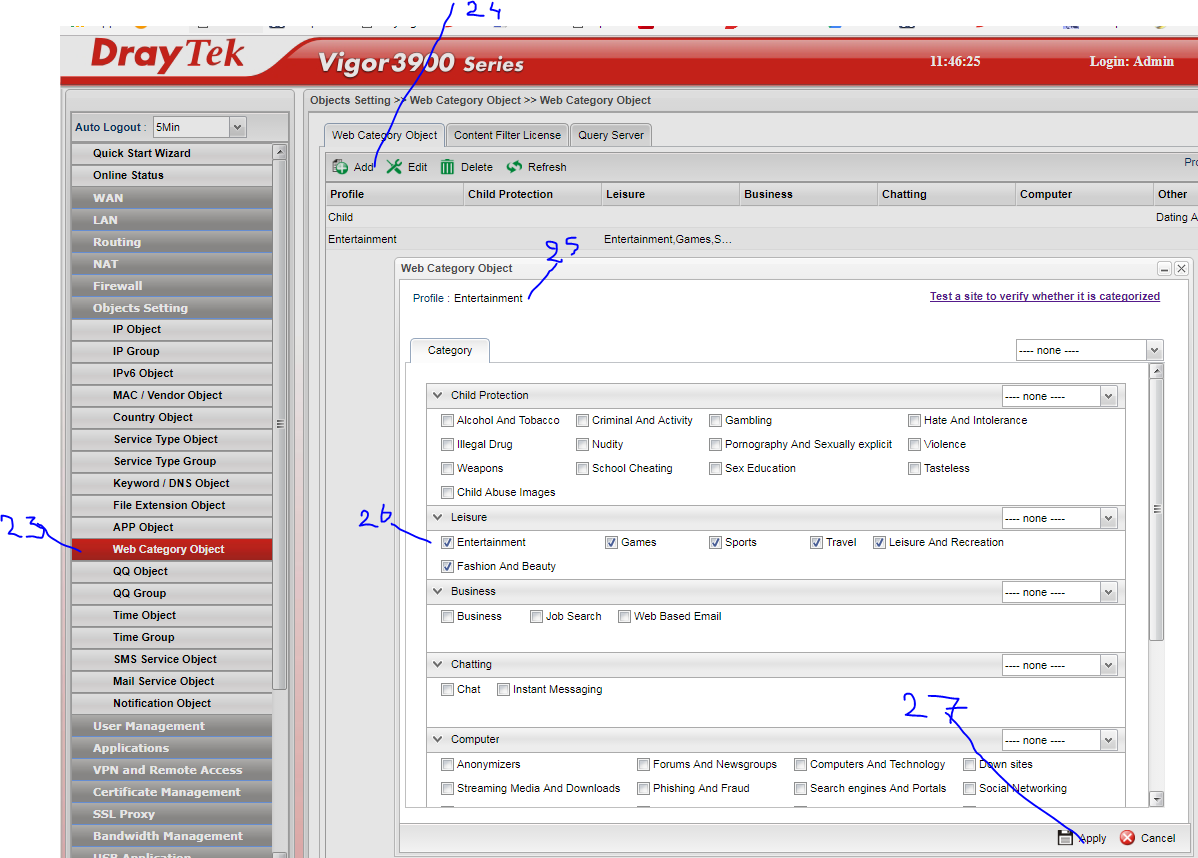 Then set up the source IP range see steps 28- 31
Steps 28-29 : Go to Firewall- Filter Setup
Step 30-31 : Set up the IP range and type in 192.168.1.8- 192.168.1.10
Fig 3900-11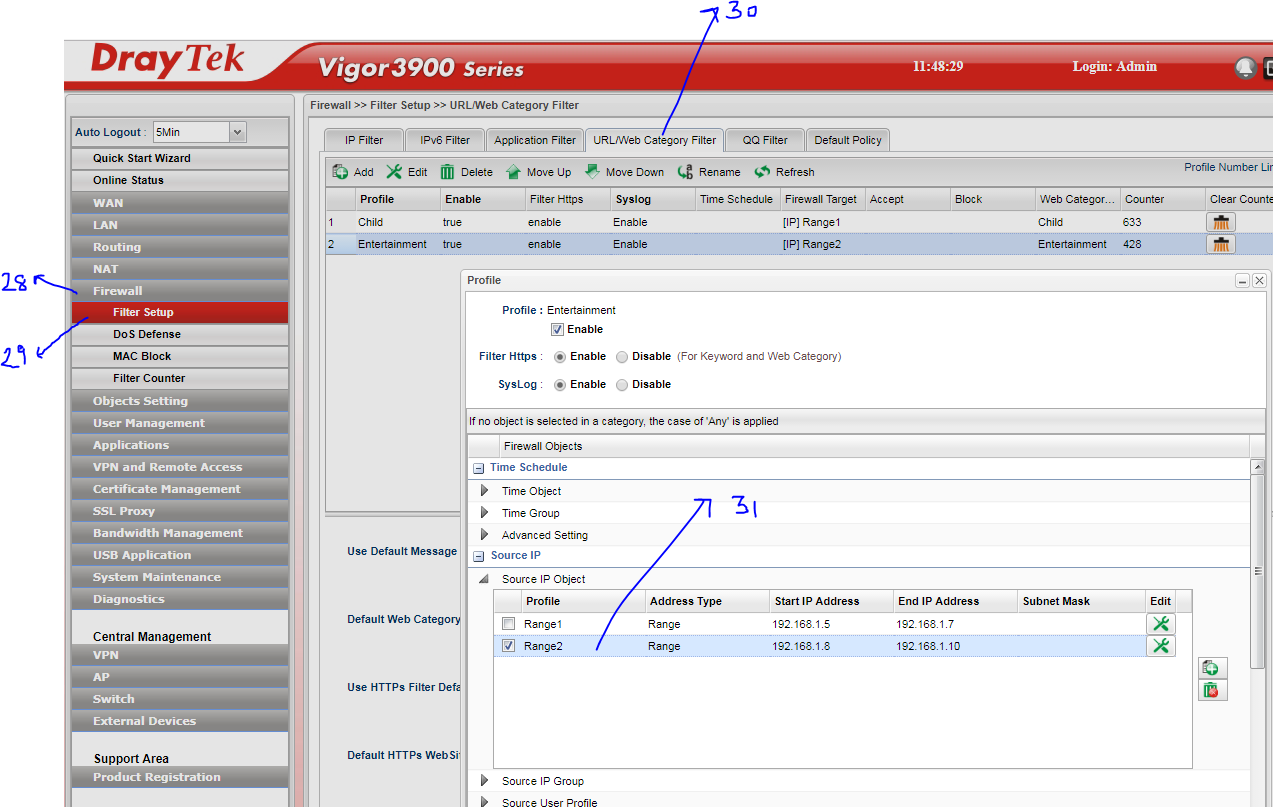 To test this example set your computer IP address to 192.168.1.5 and test a web site that falls into the category of " Child"
and you will get this " HTTPS web site filter" but the category of " Entertainment " will not be affected.
Fig 3900-12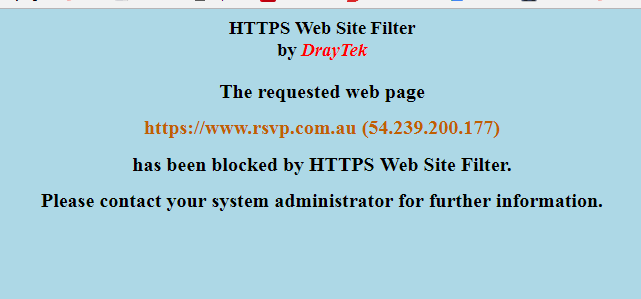 Then change your computer Ip address to 192.168.1.8 and test a web site that falls into the "Entertainment " category .
The same " HTTPS web site filter" page will appear but the " Child" category web site will be allowed.
---