How do I connect the DrayTek Vigor router?
Posted by Gabriel Yu on 12 March 2008 05:52 AM
This guide will assist you to connect your DrayTek router for the first time. Please follow the steps outlined below:
1. Hardware installation
Here we are considering hardware installation of DSL router, you can refer Quick start guide of router for more details.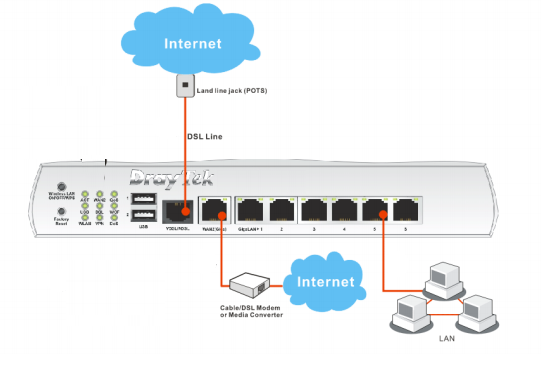 1.1. Connect the DSL interface to the land line jack with a DSL line cable.
1.2. Connect the cable Modem/DSL Modem/Media Converter to the WAN port of router with Ethernet cable (RJ-45).
1.3. Connect one end of an Ethernet cable (RJ-45) to one of the LAN ports of the router and the other end of the cable (RJ-45) into the Ethernet port on your computer.
1.4. Connect one end of the power adapter to the router's power port on the rear panel, and the other side into a wall outlet.
1.5. Power on the device
During power on, the device starts to initiate. After completing the system test, the ACT LED will light up and start blinking.
2. Connect to the Router Web Interface
Start your web browser (e.g. Microsoft Internet Explorer) on your computer that is connected to router and enter the router IP address 192.168.1.1 into the Address Bar, as shown below:



When prompted enter the username and password for the router. (Default username and password are admin/admin). You can refer to the web link below for more details regarding the default username and password:
https://www.draytek.co.uk/archive/kb_vigor_password.html
If you are still unable to access router web interface, you can refer to the application note below:
http://www.draytek.com/index.php?option=com_k2&view=item&id=5605&Itemid=293&lang=en
---