How to Reset the Router to Factory Default settings
Posted by on 10 July 2015 02:25 PM
In some situations it may be necessary to reset the router to factory default settings. These situations include:
Being unable to login into the router.
Forgetting the router "Admin" password.
Router not performing as expected due to corrupted configuration.
The factory reset button is located on the front, back or side panel of the router depending on the router model.
The pictures below indicate the position of factory reset button on various DrayTek router models.
Vigor2860 (Front panel)

Vigor2120 (Side panel)

Vigor2760 (Rear panel)

Follow the procedures below to reset the router to factory default settings.
Power off the router.
Power on the router. Using a paper clip or a pointed object press and hold the factory reset button for at least 5 seconds until the ACT LED light starts blinking rapidly. (The ACT LED blinks once per second during normal operation)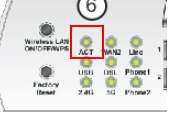 3. Release the factory reset button. The router will now restart and restore itself to factory default configuration.
4. Once the router has restarted, use your web browser to connect to it using default IP address 192.168.1.1 Login using the default username admin and password admin.

---